The roles and places you can work for Elders vary enormously, but we share one set of values, many benefits and unite to form a strong alliance powered by the pink shirt.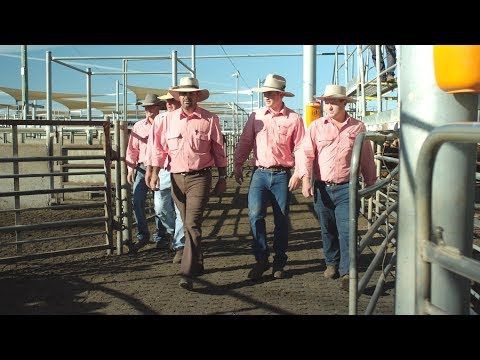 Integrity – doing the right thing​​
Accountability – owning the outcome​
Teamwork – using the power of the pink shirt team​
Customer focus – ​partnering and adding value​​​
Innovation – embracing new ideas​.
A strong sense of community
Community is key at Elders, both the spirit of community within the workplace, and supporting the community in which we live and work through our many community partnerships.
Clients are so much more than just customers, they're your neighbour, your netball/footy coach, your mate and you're the one they can turn to for help when they need it.
We strive to be innovative and nothing is so important that it cannot be done safely. We value the land, respect animals and one another, working for a more sustainable future.
Watch this video to learn more about the ways Elders supports the local community.
We invest in our employees and offer a variety of benefits aimed at helping them maintain their physical, financial and mental wellbeing. As an employee, we want you to thrive and be proud to put on the pink shirt and bring your best self to work each day.
Career development
On-the-job training
E-learning programs
Learning programs including Leadership training
Further education financial support including study leave
Community 
Support your chosen charity through
Elders Give it program
Paid volunteering leave
Retiree Club to remain involved in the industry
Involvement in local community events, field days and fundraisers

Flexibility 
Flexible work arrangements
Opportunity to purchase leave
Parental support, including paid parental leave for primary and secondary carers.
Health and Wellbeing 
Ongoing access to a range of wellbeing services for you and your family including counselling, health coaching, financial coaching and more.
Hardship support through our Staff Foundation
Cheaper private health insurance deals
Perks and Discounts 
Access to over 350+ retail discounts through myRewards
Range of exclusive discounts courtesy of our partners (travel, cars, insurance +).
Annual uniform allowance
Valuable discount from RM Williams
Recruitment referral reward
Rewards and Recognition 
Annual incentive program
Service loyalty recognition
One Elders Awards, monthly and annual
Share ownership plan
We invest in our staff to ensure everyone who joins Elders is set up to succeed – from training and conferences to industry experts within your reach, offering support and guidance.
We want you to thrive and be proud to put on the pink shirt. When you join the Elders team, you have the backing of an iconic Australian agricultural brand and a team of passionate individuals supporting and challenging you on your journey.
Learn about the types of roles available at Elders.