Listing Details
Sale ID - cs001036
Sale Date - July 09, 2022 @ 09:00 am
State - Queensland
Plant and machinery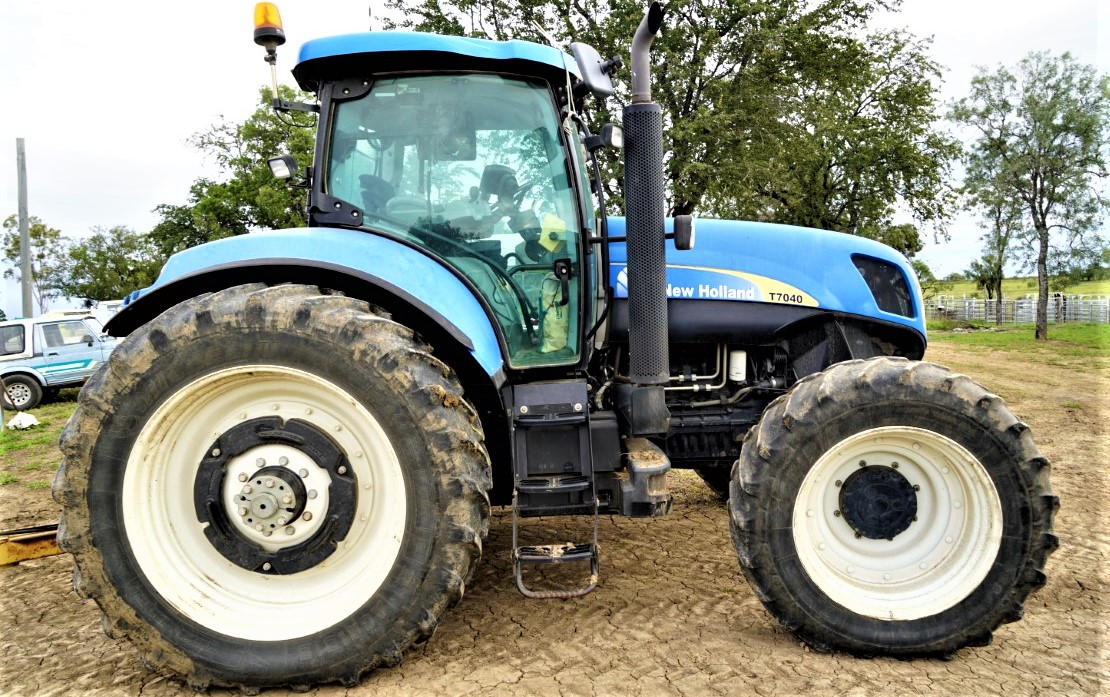 Property Name

Bauhinia Vale

Directions & Location

2828 Grosmont Road, Wandoan

Terms

Bidder Registration on Sale Day , ID Required. Eftpos/Card (surcharge applies), Cash or Pre Approved Cheques on sale day.

GST

Applicable
---
More Details
WANDOAN CLEARING SALE
Plant and Machinery
50 Lots Interfaced Online on Auctions Plus commencing 11:00am. 2009 New Holland T7040 Wheel Tractor, Trimble FM1000 GPS Screen, 180 HP, Power Shift, Approx: 4800 Hrs, Front Wheel Assist, Row Crop Wheels; Trimble GPS Base Station, 2CM Accuracy, Tripod or Shed Mounted, FM1000 Screen, Tractor Steering Control Unit; MF3650 1988 Wheel Tractor, 150HP, Approx: 12,000 hrs, includes all attachments, Tennant End Loader w Hay Forks, Double Grab, 4 in 1 Bucket, Silage Grab, Pallet Forks; Ford 3000 Tractor, ROPS Canopy, Dual remotes; Fiat Hitachi FD14E, 170HP, Power Shift, Bull Tilt Blade with 18ft Stick rake & 2.4 mtr Floating Cutter Bar, Tilting Air Cab, 3000 hrs since engine rebuild; Cat D6-9U Crawler, dual remotes, 24 Volt Start; MF 760 Header, Series 2, Power Shift, V8 Diesel, 24ft Front with Batt Reel & Front Trailer; 1942 Cat 12 Grader , 90HP, 12 Volt Pilot & 24 Volt direct start; 782 International Cotton picker, 2 Row, Basket & 4 Fronts Loose; 40ft Mounted Harrow bar; 34ft Napier 643 Cultivator; 25ft Gason-Hiniker Chisel Plough with folding wings, 25 tynes; CSN Offset Discs, 32 Plate; 3PL Reversible Disc Plough; Hardi 12 Mtr Boom Spray, 3PL, GPS control module, 600 litre Tank; Grasslands GEHL 72 Forage Chopper, Model 35332; New Holland 353 Feed Mixer with hammer & Roller Mill; Kverneland Bale Wrapper; Krone 1500VP Round /Silage Bales with tandem axles; 3.6m M/F 1345 Disc Mower Conditioner, hydraulic swing arm, 8 cutting heads 1 steel/1 rubber conditioning roller; Pottinger 4.2 m Rotary Hay Rake; Toncutti Hay V Rake; 1300 Ltr Fuel Tank on Stand; 2200 Ltr Fuel Tank on taller stand; Horizontal 2200 ltr Fuel Tank with Stand, 1000 Gallon Water Tanker on trailer, tractor tow,
Vehicles
1418 Mercedes Benz Body Truck, Unreg, Bogie Axle, 22ft Tray, Restorers Dream; 1993 Pajero Wagon unregistered (farm vehicle) 4x4, approx.: 440,000kms, intercooler turbo; Suzuki Sierra 4x4, unregistered, fibreglass canopy; Yamaha 350 Bruin Four Wheeler, good tyres & seat (not in going order);
Furniture
Rotary Clothes Line (unused); Chest Freezer, Bedroom Cupboards, Single Beds; Heaters; Portable reverse cycle Air Conditioner; Filing Cabinet; Office Desk; Lounge and lounge chairs; Colour T V; Qty Household Items.
Livestock
1 x Molasses Lick Drum; 8 x Molasses Troughs; 2 x Rectangular Poly Feed Troughs; Calf Crate suit Ute; 1 x Cattle Feeder; 2 x Hay Rings, mesh base; Old Stock Crate, 2.5 m x 5 m, Fencing: Qty Used Steel Posts 5'6"; Post Hole Cleaner; Cant Hook; 11' 6" ironbark Strainer Posts, 7ft ironbark Fence Posts; Qty coils of 1.8 High Tensile Barb Wire; Qty 1.6 High Tensile Barb Wire used; Misc Pipe Gates; Wire gate Components & Jig; Napier 3pl Jib Crane; 5 strand barb wire Unroller;
Miscellaneous
Qty Sorghum Fingers, Plastic Pickup Fingers, Pickup Reel suits MF760 Header; Dual axle comb trailer suit hay conversion; Shearer Scarifier; Silage Bin suits AA Inter Truck: Mounted Harrow Bar (Finger Harrows); Header Fuel Tank; 4.1 m Harrow Bar with steel wheels; Set Marker Arms for 6m Planter; Header Grain Cleaner (Collectors Item); 3PL Toolbar; 3PL Frame; Bare Toolbar; 1350 Litre Fuel tank (Horizontal); International AA160 Truck Cab; Wide Load Signs; Poly Boat with 3 metre Oars; Tyre Roller; Heavy Yale Endless Chain; Tray for Mazda 2000, 2.5m x 4m with sides; Fork-Lift Mast; Chamberlain John Deere 753 Planter, small seeds box,18 press-wheels, drag harrows, fertilizer side faulty; Wheels for Ford 3000 Tractor; Under-slung front Blade from Ford 3000, hydraulic lift, manual angle adjustment; Bull bar. Qty 12 gallon Galv Drums; Honey Vat; Steam Boiler(wood-fired); 4 x Metal Cupboards; Qty Wire Rope & V Belts; Pulleys; Holden Rims; Qty Steel & Iron; Scare Gun, gas operated; Parts Washer Tub; Qty Shade- cloth; 1953 Cast iron Bath Tub; Qty Tyre's & Rims; Welding Table; Qty Nuts & Bolts; Numerous other Sundry & Miscellaneous Items.
Antiques
Bridle Draft Scarifier, Rear Wheels loose for transporting, (Collector Item), One Way Sunshine Double Disc Plough, (Collector item)
Additional Details
PLEASE NOTE MAJOR ITEMS IN THIS SALE ARE INTERFACED ON AUCTIONSPLUS, ONLINE BIDDING COMMENCES 11:00AM QLD TIME.