Listing Details
Sale ID - cs000693
Sale Date - August 07, 2020 @ 10:00 am
State - Queensland
Plant and machinery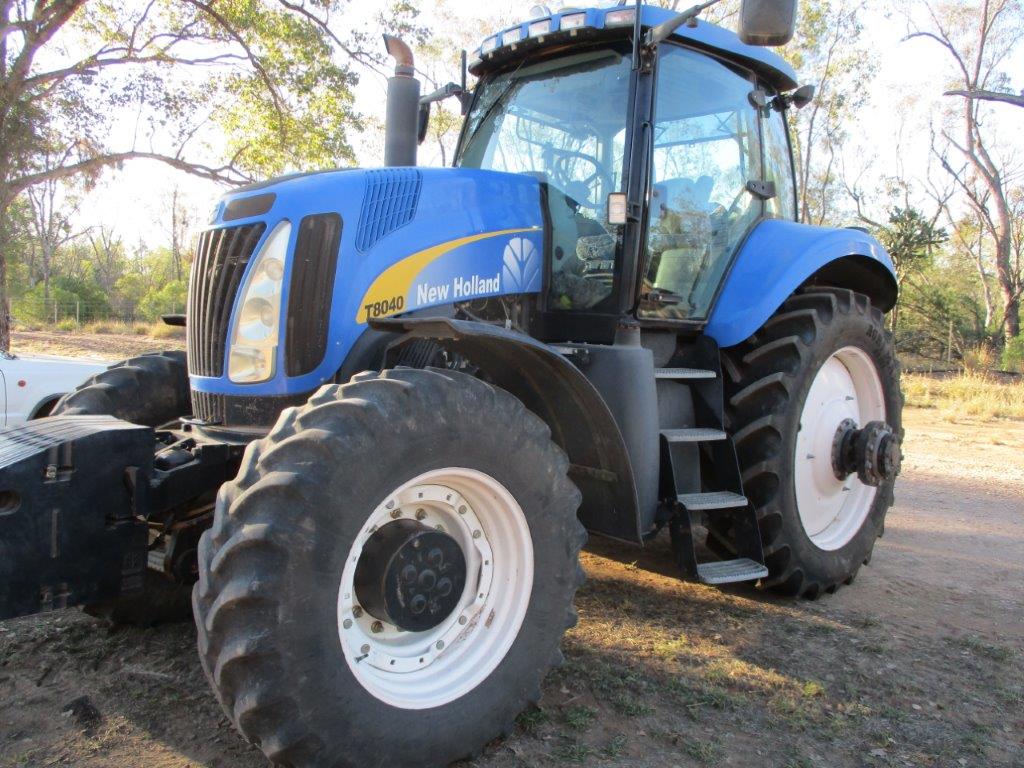 Property Name

'Orana'

Directions & Location

1291 Undulla Creek Road, Tara Q 4421

Terms

Full payment on the day

GST

Applicable
---
More Details
Tara Clearing Sale
Plant and Machinery
48 Plate Grizzly Fieldmaster Folding Offsetts; 30' International 740 Scarifier with Napier Grassland air seeder & 28 RFM coil press wheels; 24' Janke Parallelogram planter with 8 row press wheels; 25 Tyne John Shearer Trashworker; 10mtr Cultivator with Flexicoil Tynes; 18mtr Boom Spray with 2200ltr tank & T Jet auto rate control; 8 row Ellis Shielded Sprayer on 9mtr linkage bar; 10 tonne Mud Buggy; 24' Conservation King Paddle Chain with grass seed boxes; 3 piece Field Rollers 36'; 3pl 22' Blade; 3pl 16' Cultivator Bar with Napier Scarifier Tynes; 11' Stick Rake to suit McCormack FEL; 40' Fire Harrows; 7 Leaf Scrub Harrows; 25' 5 Row Harrows
Vehicles
T8040 New Holland Tractor (4200hrs) Dual wheels & Ezi-Steer 500; 5130 Case Tractor, F.E.L bucket, pallet & hay forks, blade (11950 hrs); 178 Massey Ferguson Tractor (not going); 2388 Case Header (6400 engine hrs, 4100 rotor hrs) 30' 1010 Front & Comb Trailer; TR70 New Holland Header (7015 hrs) 25' Front& Comb Trailer; AA180 International Tip Truck with bin 282 Petrol Motor; 1993 Triton Ute 4x4 (Unreg & petrol); Yamaha Bruin 350 Quad Bike (15000km); Honda 80R Motor Bike; Yamaha 175 Ag Bike
Livestock
465 x Clipex 165-9 Steel Posts; 2mtr Split Posts (approx 100); 3 x Rolls Hingejoint (NEW); 7 x Rolls 2.5mm Tyeasy Plain Wire; 7 x Rolls 1.8mm Barb Wire; Wire Strainers; Wire Spinners; Maryvale Portable Sheep yards (on trailer); Sheep weigh crate & scales; Wool table & shearing slings; Wool Press; 6' x 8' Ute Crate; 12 x Round bales hay: HD 1800 Advantage Feeder.
Miscellaneous
3pl Back Blade 8' Port Multi; 6' Daken Slasher; 2 x 30.5 x 32 Tyres & Rims Ex 2388 Header; 16.9R30 Tyre; 4 x 18.4R 46 Tyres; 13 x Janke Rib Press Wheels; 9 x Janke 50mm Press Wheels; Tynes for International 740 Scarifier; NEW 8" Scarifier Points; NEW 12" Shearer Trashworker Sweeps; 2 x Sherwell 29 tonne mobile Silos with 25' x 11" auger; 2 x Sherwell 29 tonne mobile Silos with 23' x 11" auger; 70mtr x 2.7mt Silo bag NEW; Akron EXG300 Silo bag unloader; 4 tonne seed bin; 3 tonne seed bin; 2mtr Conical silo base; 2 x 14' Cone silo bases & mesh; 43' x 9" Mitze auger with 20hp Honda (Electric start); 40' x 7.5" Mitze auger with 13 hp Motor (Electric Start); 2 x 12V Pencil augers; New Leahey 12volt Auger Mover; 1200ltr Mobile fuel trailer with petrol pump; 2200ltr Overhead Diesel Tank; 1200ltr Overhead Diesel Tank; 1200ltr Overhead Petrol Tank; 1.5" Onga Fire Fighter Honda Motor; Fanmaster Diesel Heater; Halogen Flood Lamps; Electric Drill; Shuttles; Grain Spear; Grain Sieve; Riceter Moisture Meter; Silo Mesh; Used corrugated iron; Old field bins; Saw bench; Sawn Timber; Weather Board; Shindaiwa 488 Chainsaw 18" Bar; 3pl Jib; John Deere L110 Ride on Mower; Honda Push Mower; Wood Heater; Sliding glass doors & windows; Assorted parts, poly fittings, nuts, bolts, filters, chains & tools; Scrap Steel; Pipe & Steel; Heavy Steel.
Additional Details
As per COVID19 requirements all person entering the property must register and adhear to all safety practises put in place. Hand sanitizing & social distancing will be required.