Listing Details
Sale ID - cs000697
Sale Date - August 29, 2020 @ 09:30 am
State - New South Wales
Plant and machinery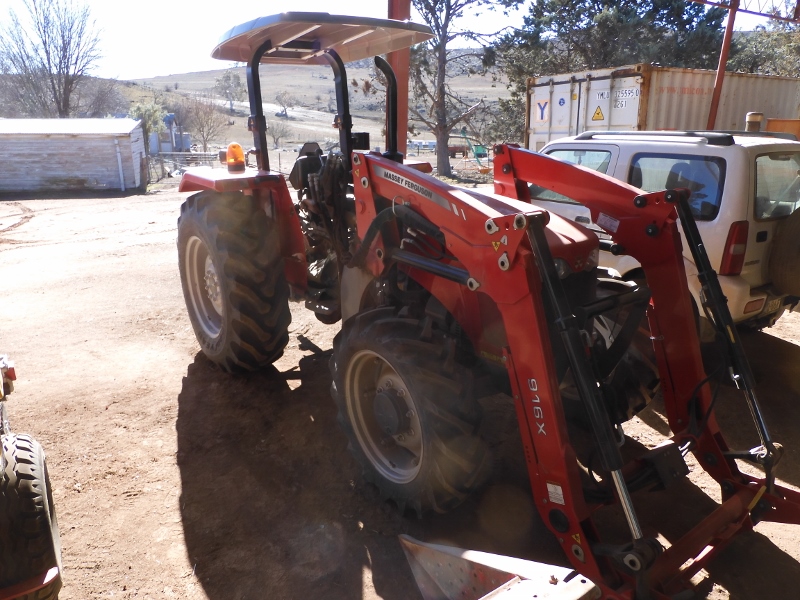 Property Name

"CARINYA"

Directions & Location

857 TOM GROGGIN ROAD, COOMA NSW 2630 - DIRECTIONS – FROM COOMA DRIVE 12KM TOWARDS NIMMITABEL AND TURN LEFT ONTO TOM GOGGIN ROAD AND FOLLOW SIGNS FOR 8.5 KM.

Terms

TERMS - CASH, APPROVED CHEQUE OR EFTPOS ON THE SALE DAY.

GST

Applicable
---
More Details
CLEARING SALE - A/C A.E BELL (DECEASED ESTATE)
Plant and Machinery
TRACTORS:
• 2018 MF 265, 4WD, ROPS, EUROHITCH 916 X LOADER WITH BUCKET, 3PL, PTO, HYDRAULICS, AS NEW 60 HRS
• 1985 MF 675, 4WD, CAB, 3PL, HYDRAULICS, PTO. MF35, 3PL, PTO, SDN75224
• FORD 3PL, PTO, FEL WITH HAY FORKS, 2854 HRS, C34781
• FORD 420, 3PL, PTO, FEL WITH ROCK BUCKET, 2186 HRS
• LEYLAND 270, 3PL, PTO, FEL WITH HAY FORKS, 9721 HRS
• FORDSON SUPER MAJOR, 3PL, PTO, HYDRAULICS 5769 HRS
• WOLMAR MH 101, 3PL, PTO, 4WD, CAB, HYDRAULICS WITH A FRONT BLADE
FARM MACHINERY AS NEW:
2007 JOHN SHEARER DIRECT DRILL, 13 TYNE, SMALL SEED BOX, TRAILING. 2017 DUNCAN DIRECT DRILL, RENOVATOR CLASSIC, 19 TYNE WITH DISCS AS WELL, TRAILING, NEVER USED.
WHITEFIELD FEEDOUT GROUPER, 1.5 TONNE NEVER USED. 2016 GOLDACRES TRAYMOUNT 600 BOOM SPRAY, HONDA MOTOR, 6 MTR BOOM, FOAM MARKER, NEW STAND. 2019 GOLDACRES 450 LTR, 3PL BOOM SPRAY, NEVER USED. SCHULTE SRW 800 ROCK RAKE. BERENDS HD 137 SLASHER 3PL. BERENDS POST HOLE DIGGER 3PL, 8 & 12INCH AUGERS NEVER USED.
USED FARM MACHINERY:
CONNOR SHEA DIRECT DRILL, 18 TYNE, MODEL N5067, SMALL SEED BOX, TRAILING. DEAN TIPPING TAILER 2.7 X 1.9 MTR. 17 TYNE TRAILING SCARIFYER. SHEARER 20 PLATE OFFSET DISC PLOUGH. GRIZZLY 26 PLATE OFFSET DISC PLOUGH. MF224 SMALL SQUARE BALER. SPLENDIMO LELY 240L HAY MOWER. BERENDS SLASHER 1.8MTR, 3PL. TYRE PASTURE ROLLER, 3MTR. GRAINLINE ELECTRIC AUGER, 35FT. BOSMAC PENCIL AUGER, ELECTRIC 3.5MTR. MF POST HOLE DIGGER, 3PL, 12INCH AUGER. SILVAN BOOM SPRAY, 600 LTR, 6MTR, FOAM MARKER. 1 X 500 & 1 X 400LTR WATER TANKS IN FRAME. MF TWIN FURROW POTATO ROWER, 3PL. 3 TYNE, 3PL RIPPER. MF, 3PL GRADER BLADE. 3PL ROUND BALE SPIKE. QTY FEL HAY & PALLET FORKS. QTY FARM TRAILERS. 4 WHEEL MOTORBIKE TRAILER.FRONT TRACTOR BLADE.MF 3PL GRADER BLADE. 2300 TEAM POLY WATER TANK-GREEN.QTY OLD HAY RAKES. OLD PASTURE HARROWS. HAY ELEVATOR.TIMBER & ALLOY LADDERS. QTY FENCING MATERIALS. WIRE SPINNER. STAR POST LIFTER. SOLAR FENCE ENERGISER & INSULATORS.
Vehicles
MOTOR VEHICLES:
2010 SUZUKI SIERRA JIMMY, WHITE. REGO NO CZQ86F
1984 MITSUBISHI L200 EXPRESS TRAYBACK UTE, ALLOY BULLBAR. REGO NO NA1488
1990 FORD FAIRMONT GHIA STATION WAGON, EA, ALLOY BULLBAR. REGO NO PSF334
HONDA FOURTRAX MOTOR- BIKE. SUZUKI EIGER QUADRUNNER MOTORBIKE.
MASSEY FERGUSON RIDE ON MOWER 42 INCH, KOHLER 20HP MOTOR.
TJM UTE CANOPY 2100 X 1800.
Livestock
LIVESTOCK HANDLING & FEEDERS:
4 BROMAR SHEEP LICK FEEDERS, 1 COWRA SHEEP LICK FEEDER. 4 HAY RACK FEEDERS. ROUND BALE FEEDERS. ROUND BALE FEEDOUT TRAILER. JACKY SAFE TROUGH 1000KG FEL GRAIN BIN. JACKY 1200KG FEL GRAIN BIN. NEW 3 WAY STEEL SHEEP DRAFT. METALCORP CATTLE LOADING RAMP. PORTABLE SHEEP LOADING RAMP, ADJUSTABLE.LARGE QTY SHEEP YARD PANELS. CALF PULLER. LARGE SHEEP CRATE 15 X 8 FT. UTE SHEEP CRATE.
SHEARING EQUIPMENT:
STEVLYON MINI MATIC WOOLPRESS, AJAX DOUBLE BOX WOOLPRESS, AJAX SINGLE BOX WOOLPRESS, STEVLYON OVAL WOOL TABLE, 2 X STEEL & 1 X TIMBER WOOLTABLES, 7 PACKHOLDERS, WOOL BALE HOIST, LISTER SINGLE ELECTRIC STAND, LISTER GRINDER, BRANDS, STENCILS, ETC. LARGE QTY GREEN SHEEPCOATS.
Miscellaneous
SUNDRY ITEMS:
MOBILCO ROTARY HOE, QTY ROOFING IRON,TIMBER & ALLOY LADDERS, WHEELBARROWS, RYOBI BENCH GRINDER AS NEW, DYNALINK DRILL PRESS, QTY ASSORTED GARDEN TOOLS, QTY ASSORTED WORKSHOP TOOLS, AIR COMPRESSOR, BATTERY JUMP STARTER, ESKIES, BLOCK & TACKLE, QTY HAND SAWS, 40 PCE TAP & DIE SET, QTY WINDOWS, WASHING MACHINE, ASSORTED HOUSEHOLD FURNITURE.
Outside Entries
N/A
Antiques
ANTIQUES:
SUNSHINE HARVESTER HEADER, TRAILING, PTO, VERY WELL KEPT.MARBLE WASH TABLE & SIDE TABLE WITH TILES. QTY OF SINGER SEWING MACHINES. CANE BABY PRAM. QTY OF OLD SUITCASEs VARIOUS SIZES, QTY OF TABLE & CHAIRS. QTY OF CEDAR CUPBOARDS & DRAWS & DESKS, TIMBER MANTLEPIECE, SUN LOUNGE, QTY BOOKS & RECORDS, 3 MILK CANS, QTY PLASTER OF PARIS TINS UNOPENED, GOLF CLUBS, OTHER ITEMS TO NUMEROUS TOO NUMEROUS TO MENTION.
Additional Details
INTENDING BUYERS ARE ASKED TO PRE-REGISTER AT ELDERS COOMA