Listing Details
Sale ID - cs000731
Sale Date - November 06, 2020 @ 12:00 pm
State - Queensland
Plant and machinery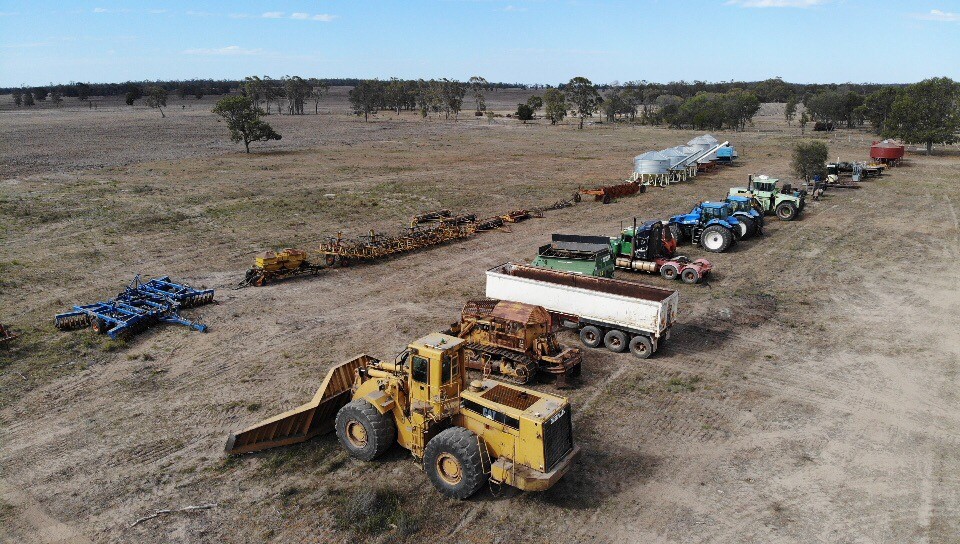 Property Name

"THE BELAHS"

Directions & Location

5494 MOONIE HWY, DALBY QLD 4405

Terms

Items will not be released until cleared funds appear in Elders Rural Services bank account. Payment MUST be made prior to the collection of Items.

GST

Applicable
---
More Details
AUCTIONS PLUS ONLINE FARM MACHINERY & EQUIPMENT SALE - "The Belahs" Dalby QLD
Plant and Machinery
IMPLEMENTS: Grizzly 64 Plate Field Boss 2017 model; Gason 2900 Series Plough approx 35 ft, folding wings, 16"sweeps, K Line Harrows new; Gason 2900 Series Plough approx 32 ft , folding wings, no points; Blade Plough, Approx 2.5 mtrs with seed box; Gyral SC Seeder 2 Bins, approx 1.2 t each; Gyral Cultivator approx 47 ft with air seeder attachments; Field Rollers; Pedrick Pin Wheel Stick Rake; Hardie Boom Spray, 1000 ltr tank; Silvan Fertiliser Spreader; Harrows; Hay Rake; Janke Press Wheels x 20; 6 x 16" Sweeps new; 3 x Aherns 29 t Field Bin PTO; 3 x Silo 25 t, cone base, aerator; Auger approx 30 ft x 7 inch, Electric start – Honda; Square bale spears & hay forks; Silage Grab.
MACHINERY PARTS: Steiger Panther 325 parts only; Massey Ferguson Tractor parts only; Assorted CAT parts, gaskets, track roller, O rings, clutch pads, filters; Dozer Parts - belly guard, ripper bar, A frame, track assembly, fuel tank, seat x 2, tree pushers, sprocket & idler; Truck Gates 12 x 5'6 & 2 x 6'; Truck Parts; Truck Fuel Tanks; Lister Diesel Motor; CAT 3406 Motor; Ford Motor, 4 cyl diesel; Quantity of Manuals; Antique Austin Truck; Old Motorcars & Buses & Truck Cabs; Assorted motors, chainsaws, pumps.
Vehicles
TRUCKS, TRACTORS, DOZERS & VEHICLES : T8 360 New Holland Tractor, 2100 hours, GPS Intellisteer Auto Steer, Front & Rear Duals; TG255 New Holland Tractor, 8400 hours, GPS, Case IH FM750, TPL, forks; CAT 988F Loader, 28 ft Stick Rake & Bucket, Approx 31000 hours; CAT Dozer D7E, Blade & Rippers, Canopy, Manual; CAT 17A Dozer Cable Blade, Manual; Steiger Tractor Panther CM325, CAT 360HP; 4280 Chamberlain Tractor, Bucket 4 in 1, PTO; Case 930 Tractor Comfort King; Kenworth W Model Cat Motor 400 HP, Road Train rated, 419 849 km, unregistered; 30ft Tipper Trailer Hercules Chassis Tipper; 1982 Brazier Dolly; 2013 Landcruiser GXL Wagon 315000 km.
Livestock
LIVESTOCK EQUIPMENT: Keenan Mixer Klassik 140 Bale Handler; Thomas Roller Mill 3 phase; 2 x Finch 8 t Feeders On slides; 2 x MPH Sherwell Feeders 16t; 4 x 8 mtr Cattle Feed Troughs; 3 x Round Bale Feeders; Hammer Mill; Arrow Farm Quip Vet Crush, unused; Vet Crush w/- Platform, Ruddweigh Weigh Bars & Indicator; Poly Flooring; Wool Scales.
Miscellaneous
FENCING & WATERING EQUIPMENT: Spear Trap & panels; 1240 x Steel Posts 5' 6"; 140 bundles Fence Droppers 117cm; Hinge joint & Ring lock Netting; 5 rolls Wire Cable; Chain Wire; Mono Pump & Pipe & Rod approx 500 ft; Windmill Pump; 2 x Post Hole Augers.
WORKSHOP EQUIPMENT: Generator 30 kva, Lister 3 cyl diesel, on trailer, 1 x 3 phase & 4 x 15 amp points single phase; Generator 30 kva, Type P22, Perkins diesel 3 cyl, 1 x 3 phase, 2 x single phase points; Nhams Engineer Lathe; Lincoln Welder; Cement Mixer; Tool Boxes, HD Jack, Assorted Bearings; 4 x Endless Chains; Workshop Trolley; Steel Cable & Pulleys; Assorted steel & scrap steel.
GENERAL FARM EQUIPMENT: Fuel Trailer 12-volt pump; 5 x Overhead Fuel Tanks from 2000 to 4500 ltrs; Shipping Container 46' 6", stainless steel lined; 5 bedroom Donga; 3 x Rail Wagon; Steel Racks; Crate Stands; 20ft Railway Iron Grid; Assorted Roof Iron, Roof Capping & Guttering & Purlins; 5 x Steel Shed Posts; Shed Frame; 20 x 6ft Oregan Pine; plus numerous other items.
Additional Details
AUCTION TERMS & CONDITIONS: Sale 304 Starts: 12 noon (QLD time) Friday 6th November 2020. Buyers will need to register with Auctions Plus. Sale Concludes: 12 noon (QLD time) Monday 9th November 2020 This auction will be conducted under the Auctions Plus sale terms & conditions. Buyers are requested to familiarise themselves with Auction terms prior to the sale. GST will apply to all items in this sale. No buyer premiums apply to this sale. Inspection Times: Friday 30th October 2020 (9:00 am to 4:00 pm) & Monday 2nd November 2020 (9:00 am to 4:00 pm) "The Belahs" 5494 Moonie Hwy, DALBY QLD 4405. Strict COVID rules apply & attendee registration will be required upon entry to the property. Payment & Collection: Invoices will be emailed the day after sale conclusion. Items will not be released until cleared funds appear in Elders Rural Services bank account. Payment MUST be made prior to the collection of items. Collection Days: Monday 16th November 2020 (9:00am to 4:00pm) & Tuesday 17th November 2020 (9:00am to 4:00pm). Strict COVID rules apply & attendee registration will be required upon entry to the property.
Links
Auctions Plus Website