Listing Details
Sale ID - cs000767
Sale Date - January 16, 2021 @ 10:00 am
State - Western Australia
Plant and machinery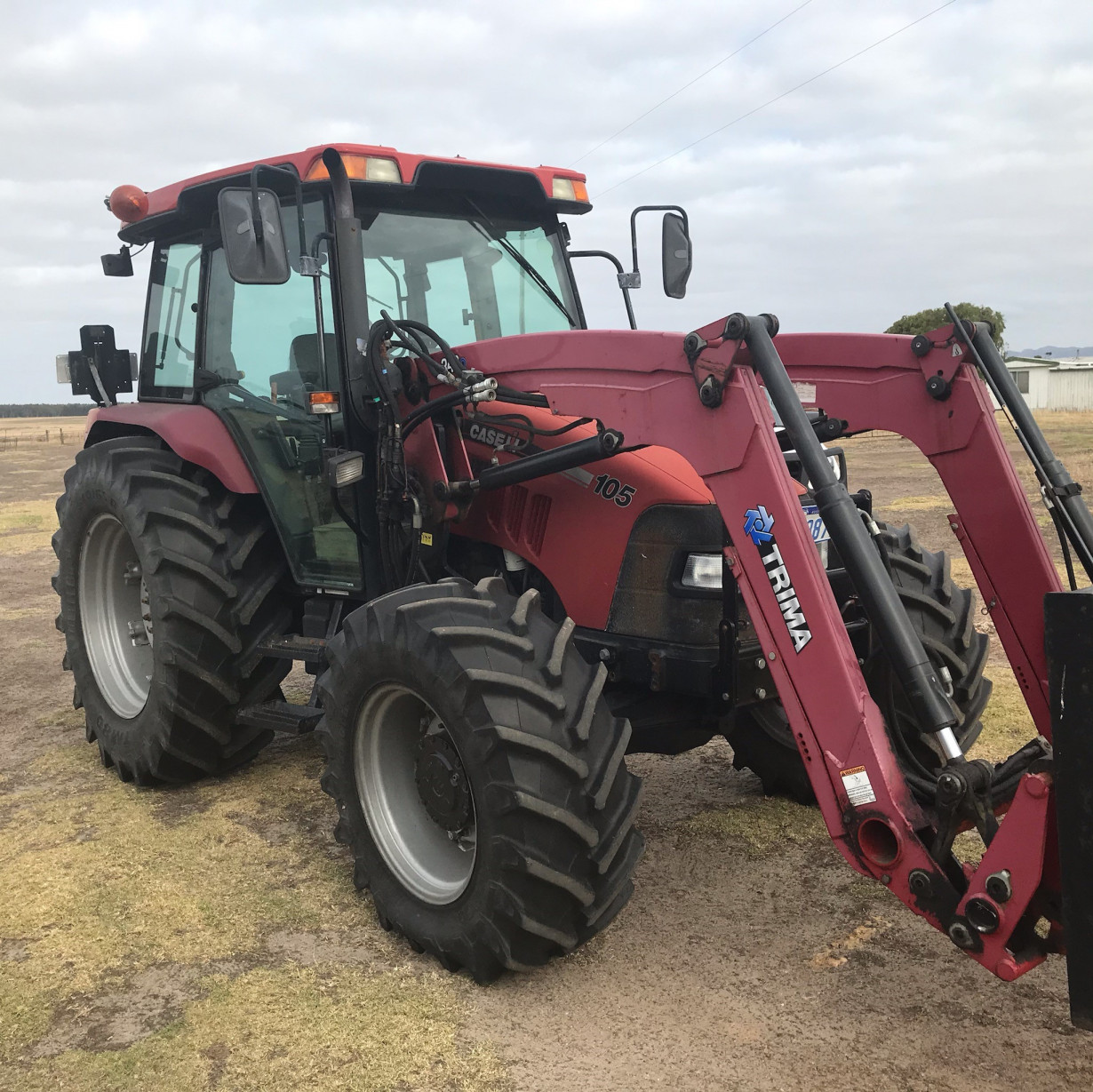 Property Name

BELLA VISTA

Directions & Location

451 YUNGUP NORTH ROAD NAPIER W.A

Terms

Payment required by cash or cheque on the day of sale, unless prior arrangements have been made and approved with your local Elders branch.

GST

Applicable
---
More Details
RM & D MITCHELL
Plant and Machinery
2008 Case JXU 105 Tractor with FEL 1947.8HRS, Bobcat Ford New Holland L-555 Kubota Motor, 1987 Mitsubishi Truck FM 515 18' Tipping Tray,1988 Nissan Safari Short Wheel Base (Unlicenced),2000 Triton 1 tonne Traytop Ute, 1998 Hyundai Excel 4 Door Sedan, Tandm Trailer 8' x 6' with cage, 800lt Silvan Boomspray 24' 3PL, Jen-Ell Trailing Fire Fighting Unit + 24' Boomspray, Vicon Mower CM 247 6 Disc, Wilson Slasher 6' Heavy Duty, 20 Disc Chamberlain Plough, Off Set Tandem Disc Plough, Shearer Scarifier, Massey 80 Combine 24 Run Small Seed Box, Coil Packers, Himac Hay Forks to fit FEL, Himac Hydraulic Hay Spinner to fit FEL,Hay Forks to fit Bobcat, Diggerwest Post Hole Digger to fit Bobcat, Push Rake, Wool scales, Lyco Power-Tech Wool Press, 4 x Sheep Feed Out Bins, Harvestaire Lamb Marking Cradle, Pencil Auger with Electric Motor, Old Auger with Honda Motor, Cole 5 in 1 Bin with Hobbs Hoist, Old Inter White Stripe model 766 Tractor, Cattle Crate with Hobbs Hoist, Grain Bin with Hobbs Hoist, Marshall Top Dresser, New Holland 442 - 4 Disc Mower, 3PL Grader Blade, Pump Ajax 2ks, Reconditioned Lister Deisel Single Cyl Motor ST1,
Furniture
Gas BBQ with Hood, Webber Kettle, Portable Patio Fire, Drum BBQ Frame + Swing Hotplate, Round Portable BBQ, Assorted Heavy BBQ Plates, Metters Copper Insert, Fishing Rods and Reels, Assorted Furniture, Table Tennis Table, Portable Toilet, Hoover Auto Washing Machine, Hitachi Twin Tub Washing Wasing Machine
Miscellaneous
1 x Fuel Tank with Stand, 1 x Diesel Fuel Tank with 12v Electric Pump, Modra Generator, New Bianco 5.5hp Firefighting Pump, Electric Pressure Pump, Tyres, Victa 2 stroke Lawnmower, Victa 4 stroke Lawnmower, Victa Lawn Edger, 2 x Husqvarna Chainsaws, 1 x Dolmar Chainsaw, Honda Portable Generator E.M. 1900x, Numerous Tongue and Groove Floor Boards, Assorted gates, 2 x Steel Post Hammers, 2 x Rolls Binder Twine, Car Ramps, 2 x Welders & Assessories, Rubber Conveyor Belting, Insulation Rolls, Wooden Work Bench, 20 x Pine Strainers 2.1M , 6 x Pine Strainers 2.4M, Rolls of Ringlock, Assorted Tools & Sundries
Outside Entries
• 4080 Chamberlain Front End Loader with attachments with three point linkage.
• 306 Chamberlain Tractor with three point linkage. (This is suitable for wrecking only – no ROPS)
• Licenced Car box trailer 6ft x 4ft with canvas canopy.
Outside Vendo
Additional Details
Intending purchasers must register at the sale office prior to the sale. ID required for registration Light luncheon and refreshments will be available.