Listing Details
Sale ID - cs000772
Sale Date - February 12, 2021 @ 10:00 am
State - New South Wales
Plant and machinery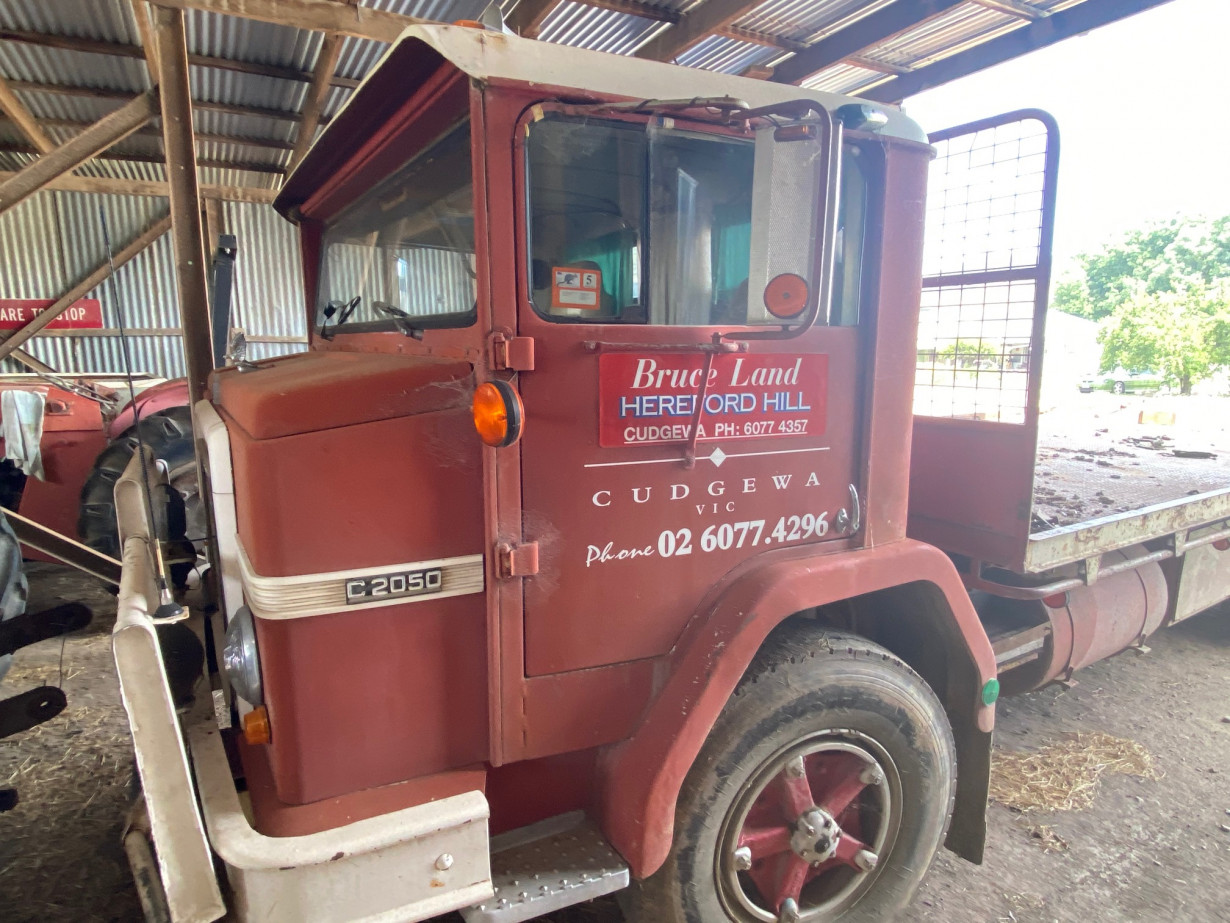 Property Name

'HEREFORD HILL' 808 Cudgewa Valley Road, Cudgewa

Directions & Location

808 Cudgewa Valley Road, Cudgewa - Entrance to property is opposite the Cudgewa Football Oval.

Terms

Strictly Cash or Approved Cheque on day, Eftpos facilities, Buyer number system will apply, Buyer registration with ID required.

GST

Applicable
---
More Details
CUDGEWA CLEARING SALE
Plant and Machinery
Holden V8 308 1973 HQ Premier sedan, vgc, unreg; Nissan Navara DX 3.0DI single cab, 2006 model, 152,000km, VIC reg UCU 250, bullbar, driving lights, tow bar, UHF, vgc; Landini 7860 4WD tractor with front end loader, forks & bucket, 3225Hrs; MF 135, 1207hrs, new rear tyres, ROPS; MF 135, 4516hrs, ROPS; MF 165, front end loader, 1784hrs, near new rear tyres, ROPS; MF 3525, 7291hrs; International C2050, 21' tray, VIC reg 058 41F, stock crate; Vermeer Lely 504 round baler; Conner Shea superseder series 2, 14 disc with small seed box; 1T super spreader, PTO driven; 4x4 EPS CF500UU side by side; Artic Cat 450 ATV; Trailco irrigators x 2; 3PL ripper; New Holland 616 3PL mower; Hulls hydraulic feed out machine; Cement mixer, electric motor; 3PL Cement mixer; Jas smith wooden wool press; AJAX wool press; Steel wool table; 3PL Howard slasher; Honda GX390 13.0hp welder/generator with compressor; 3PL post hole digger; 3PL Hardi 400L spray unit; 3PL Krone rotary hoe; Sunbeam overhead shearing plant; 9 x 5 tandem trailer with crate; Tandem trailer fire unit with Honda GX160 & Davey pump; 6 x 5 box trailer with crate; 8 x 5 tandem trailer; 3PL grader blade; Spray unit with boom & reel; Limit lick grain feeder x 2; Round bale feeders x 4; Open top ½ round bale feeders x 2; Southern cross irrigation pipe, approx 9m lengths x 26; Front end loader Silage grabs x 2; Calf marking cradle x 2; Silawrap stretch film rolls x 10; Olsson trace element lick blocks; Good quality steel & corrugated iron, various lengths & sizes; Qty of sundry dairy items; Dairy milk cans, with & without lids; Small qty of spare doors, grill, bonnet, panels & sundry items for Holden cars; Fuel tanks with stands.
Furniture
FURNITURE & HOUSEHOLD ITEMS - Webber BBQ; 4 Burner BBQ; Table & chairs; Kelvinator chest freezer; Small upright freezer; Fisher & Paykel dryer; Samsung washing machine; Hisense fridge; 200l chest freezer; LG fridge; Microwave; Dining table & 6 chairs; Kitchen dresser; Bespoke tv cabinet; Bedside tables; Rocking chair; Timber dresser with mirror x 2; Cedar chest; Bookcase; Filing cabinets; Old 2 door metal ice chest.
Miscellaneous
WORKSHOP - Qty of workshop tools, power tools & sundry items; Stihl MS 291 chainsaw; Qty of other chainsaws; Air compressor; Cormach tyre changer; Oxy set & trolley; WIA weldmatic 255s Mig; Pipe bender; Steel workbenches & shelving; Drill press; Bench grinder; Tool boxes; Qty of fencing materials, tools, posts, hinge joint strainer, electric fence equipment; Qty of poly pipe & fittings; Nail gun; Makita plate joiner; TT 254mm table saw; Metal shelving; Bosch jigsaw; Belt sander; Planer; 12 volt de-horner.
Additional Details
Catering Provided. Covid-19: Masks are required to be carried and social distancing protocols apply. All attendees will be required to record personal details, in addition to buyer registration. Registered Bidders only. Numbers limited.