Listing Details
Sale ID - cs000773
Sale Date - February 10, 2021 @ 01:30 pm
State - Western Australia
Plant and machinery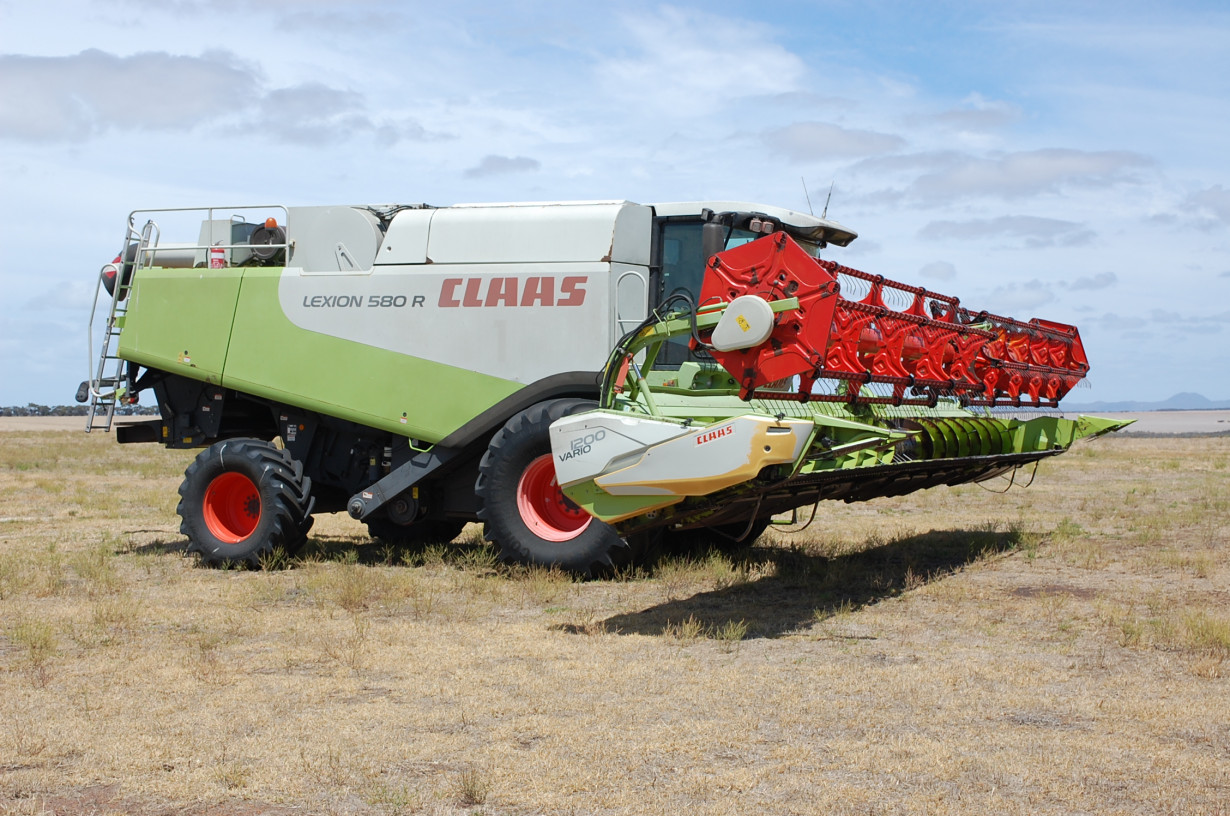 Property Name

Arrandale Farms

Directions & Location

982 Tamerine Road, Jerdacuttup WA 6348

Terms

Payment is required by cash or cheque on the day of sale, unless prior arrangements have been made with your local Elders Branch. Eftpos Facilities will be available. Intending purchasers must register prior to sale commencing, ID is required for registration.

GST

Applicable
---
More Details
M & H Palmer Clearing Sale
Plant and Machinery
MACHINERY. 2007 Claas Lexion 580R harvester, 2148 rotor hours, with 1200 Vario front with canola kit, Agridry FB2000 grain dryer, 4 x DE 1060/13 field bins, 1 x DE 1500/13 field bins, 12T chaser bin, JCB 3190 Fastrac with Trimble FM 750 Guidance, 11747 hours, Deutz DX110 FWA tractor, 17042 hours, Ford 500 with Pedrick loader with hayforks and stick rake, Trimble FM 750 Guidance with Ezysteer, Hino FF177 truck, tipping tray (licenced), Hardi Commander S 5028 sprayer with 5500 controller, Shearer TCD with Ryan Double Discs, Jetstream 5 in 1 bin on Hobbs Hoist, Fastflow 40 foot, 9inch auger, Pedrick sidewinder rake with Zerna track chain, TK Bedford Truck, unlicensed
EQUIPMENT. Westair WP27 compressor, Trimble Ezyguide 500, Pneumatic post driver, Pizzey post hole digger, Ute mounted 800L firefighter, Hardi ute mounted firebreak sprayer, 1000L fuel trailer with electric pump, 2000L overhead fuel tank, 1000L fuel tank, Aussie Pumps pressure cleaner, Aussie Pumps 2 inch liquid fertilizer pump, 6kVA Gentech generator, Perten Inframatic 8800 grain moisture meter, C-DAX bait spreader, Galvanized single axil box trailer, UFO 10 foot disc mower, Licoln PTO Arc Welder, 500V Arc Welder, Terra mister, Marshall 3T fertilizer spreader, Snatch strap, High tensile tow chain, Tie down chain, Hitachi 9 inch angle grinder, Makita 160mm circular saw, Pneumatic drill and 4 inch grinder, Stihl MS170 chain saw, 1T endless chain, Concrete mixer.
Livestock
LIVESTOCK EQUIPMENT. 5 x HD3800 Advantage Lick Feeders, 1 x Universal lick feeder, 1 x Advantage lick feeder, 1 x ESM sheep feeder, Sheep trailer feeder, 3 x Advantage sheep hay racks, Advantage cattle hay rack, Commander AgQuip calf marking cradle, Cattle scale platform, 5 calf milk feeders + teats, Hecton sheep handler with scales, monitor, crutching door and leadup race, Cattle head bale, Calving kit, Quantity animal husbandry tools, 40 Pasture 16 mineral blocks, Pneumatic dehorner, Genesis power doser, Wool table with locks bag, TPW wool press, Wool bale stencils, Fleece weighing scales, 3 wool pack holders, Sunbeam grinder, Wide grind 12V crutcher, Listen narrow handpiece, AgQuip sheep yard panels, Beiyaun electric handpiece.
Miscellaneous
FENCING & WATER. Pedrick TPL pipe laying ripper, 5 x Concrete World weaner troughs (new), Stainless steel float valves, 3 rolls 2 inch poly pipe, 5 rolls 11/2 inch poly pipe, 1 roll 3/4 inch poly pipe, Poly pipe fittings, Poly pipe spinnerCup and saucer 1000L tank, Quantity pine strainers, Quantity 1050 poly droppers, Quantity electric fence insulators, 2 roll up electric fence units 3 wires, TPL wire spinner, Quantity galvanised steel posts, Wire Strainers, Quantity ringlock gate handles, 1 1/2 rolls 7/90/30 ringlock, Quantity yardmesh, Quantity plain wire.
SUNDRIES. Honda motors, Drill press, Metabo sheet metal cutter, Quantity chain, Oxy welding gauges, hoses and tools, Soil sampling tool, Fuji optical dumpy level, tripod, staff. Galvaniized workshop cupboards and shelving, UHF base station and aerial, 11/2 T Margurita serradella pod +