Listing Details
Sale ID - cs000820
Sale Date - April 13, 2021 @ 01:00 pm
State - Western Australia
Plant and machinery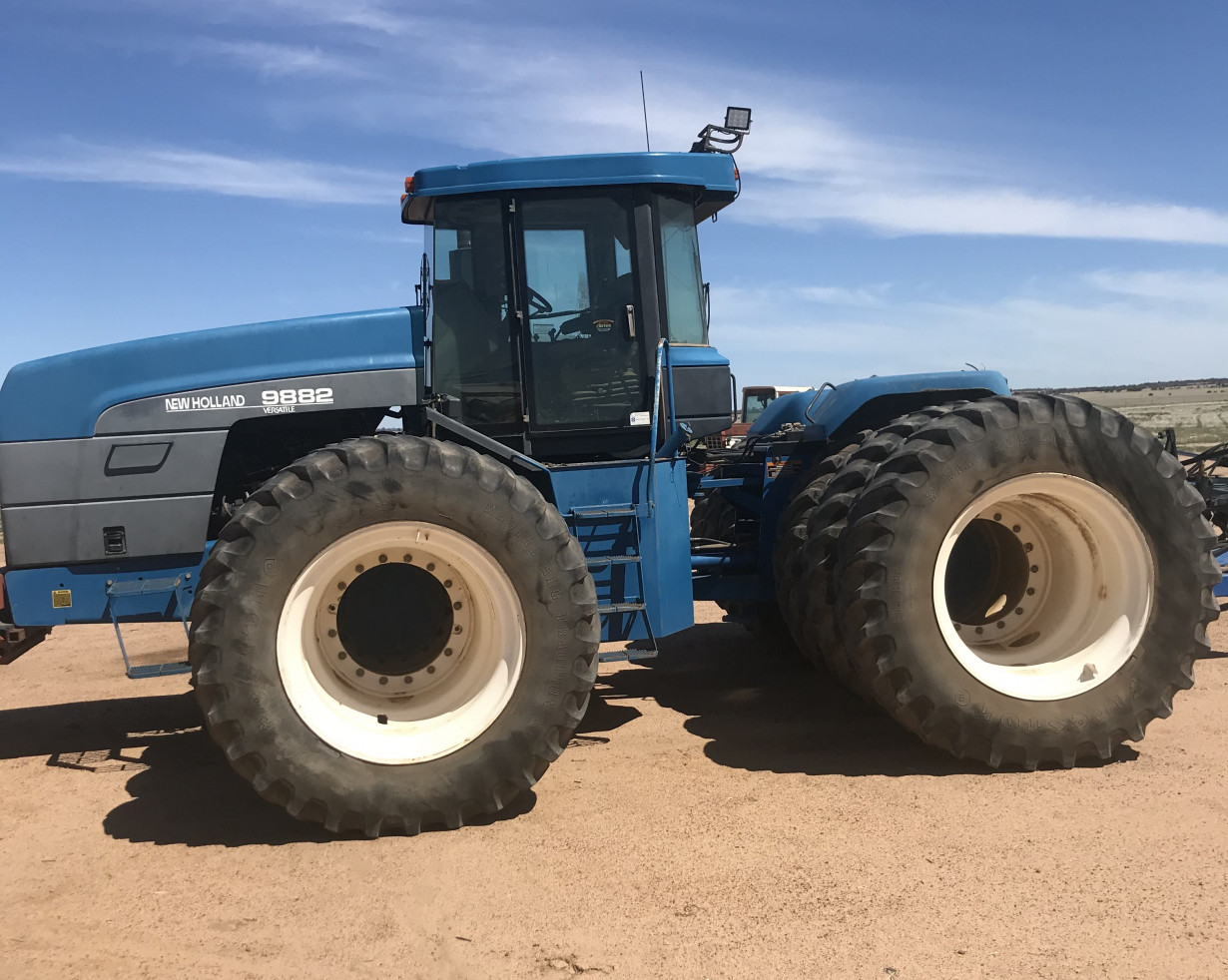 Property Name

DC & SE Cole

Terms

Intending purchasers must register at the sale office prior to the sale. ID required for registration. Payment required by cash or cheque on the day of sale, unless prior arrangements have been made and approved with your local Elders branch. Outside vendors most welcome. Purchasers please check on availability of items before sale. Loading ramp available. Loader is available on sale day only. Items to be removed from site by 5.00pm Friday 16th April.

GST

Applicable
---
More Details
Clearing sale - Narembeen
Plant and Machinery
FARM MACHINERY VEHICLES AND EQUIPMENT:
• 9882 New Holland triples
• 62ft Flexicoil ST 830 press wheels, 10" spacings with liquid kit
• Howard Bagshaw 3 bin 11 000L air seeder box
• 2210 Versatile Genesis FWA w/Trima loader
• Gleaner R75 w/35ft comb & trailer
• Gleaner R72 w/35ft comb & trailer
• Steiger Panther ST310 tractor w/duals, Cummins motor 9 254hrs
• Chamberlain Super 90 tractor
• Countryman 354 w/bucket
• MAN spray truck 7 000L 120ft
• 3 x Western ploughs – 1x 18 disc, 1 x 24 disc, 1 x 32 disc
• 2 x 30ft GP Shearer plough, hydraulic
• 25 tyne Howard Bagshaw scarifier
• 60ft dump harrows, worn
• 120ft Hydraboom trailing
• 5 000L liquid spray cart, home-made
• Napier Engineering seed grader
• 25 000L Rapid Plastics Flexi-N storage tank
• Scania prime mover 113H 380 3.5" T-table, unlicensed
• 2 x tri-axle semi-tippers – 1 on super singles lead
• Bogie axle dolly 3.5" T-table
• 37ft tandem axle flattop, unlicensed, w/1 x 3 000L, 1 x 9 000L tanks, no pump
• 40ft tandem-axle flattop w/double-deck sheep crate, licensed
• 2 x 4870 Atkinson prime movers, unlicensed, needs work
• Tandem axle flatbed trailer, licensed
• 1 x 4 000L, 1 x 2 000L fuel trailers
• 2 x 35T Sherwell field bins
• 15ft Loxton mower
• 124 Massey small square baler
• Massey 190 square baler
• Canola press, light green
• 6 wheel hay rake
• Commander Ag-quip 8" x 42ft auger
• Various augers
Please be aware that the Marshall multi-spreader has been withdrawn from the sale.
Vehicles
VEHICLES:
• Nissan Patrol ute
• Ford Fairlane V8, unlicensed
• 22ft tandem axle caravan
• Tri-axle car trailer, no ramps, unlicensed
• Honda 4-Wheel motorbike
Livestock
STOCK EQUIPMENT:
• GEHL mix-all
• Lick feeders
• Trail sheep feeder
• Morton Bale wool press
• BHP self-pinning Press
• 4 x red Sunbeam shearing heads
• Various self-feeders
• 20 x 2020 Large square bales of oaten hay, stored under cover
Please be aware that the 2 stand crutching cradle has been withdrawn from the sale.
Miscellaneous
WORKSHOP:
• WP20 Westair air compressor
• Generator
• Air-con, re-gas unit
• Fire Bug, no hoses, no nozzles, sound tank
• Various lengths railway iron
• Many sundries too numerous to mention
Outside Entries
• Jandacross Pty Ltd (Damon Hayter 0410 470 543)
STX 425hp duals.
Additional Details
Technical details: Danny Cole 0429 611 533.