Listing Details
Sale ID - cs000822
Sale Date - April 09, 2021 @ 10:00 am
State - Victoria
Plant and machinery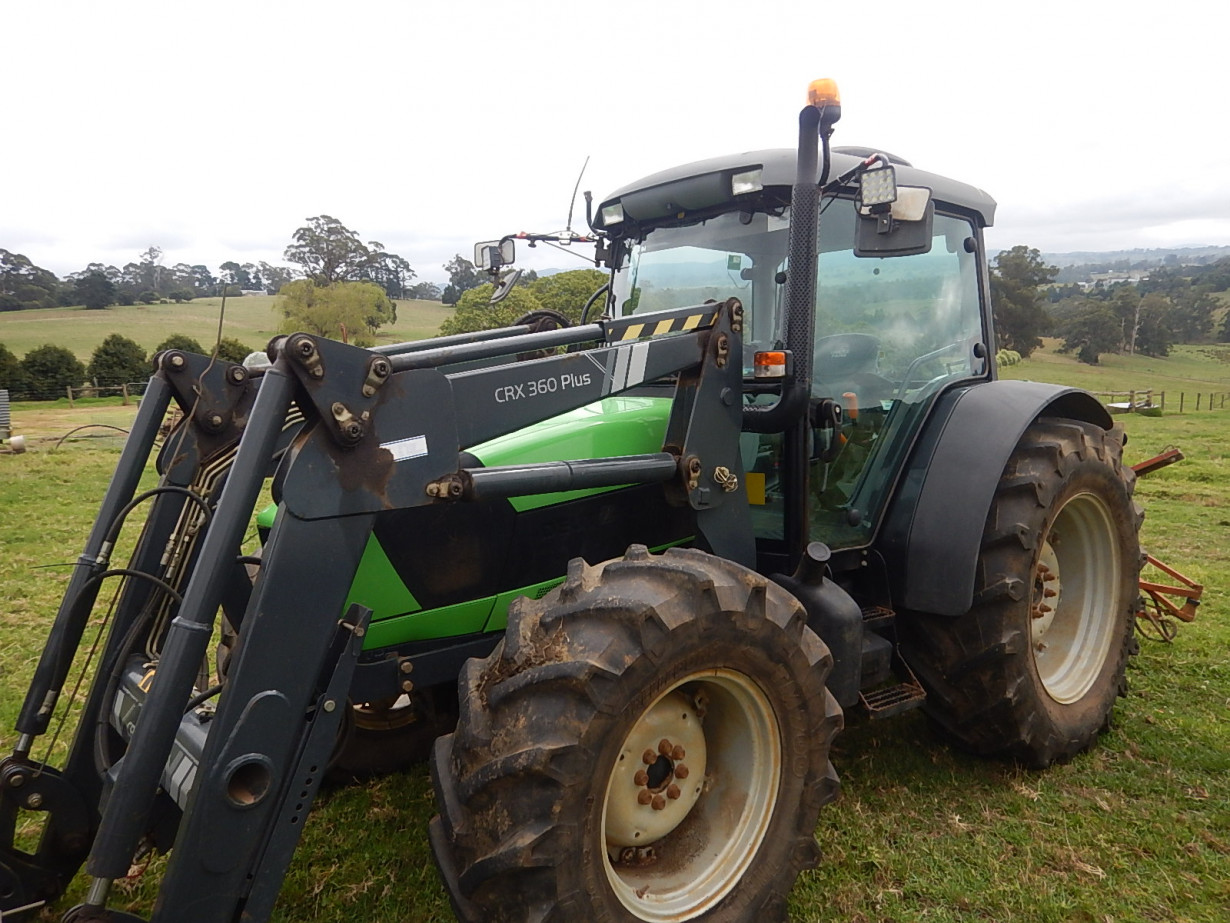 Property Name

615 Old Sale Rd., Drouin West

Directions & Location

Approx. 5 Kms. Nth. East of Drouin

GST

Applicable
---
More Details
Farming Plant, Recreational & Sundry Items
Plant and Machinery
Deutz CRX 360 Tractor, 2012, 96 hp with Bucket - less than 2000 Hrs - excellent order. 4 in 1 Bucket (as new ), Grey TEA Ferguson Tractor with Service Book, "Soft hands" Bale Grab, Hustler Chainless Bale Feeder, Seedomatic 1000 Seeder, Hardi Spray outfit with boom, Harrows, Slasher, Post Driver, Carryalls, 400 Kg. Fert. Spreader, 2 x Paddock Rollers, 40 Tonne Wood Splitter ( as new), Gehl Grind All Hammermill, small square bale hay elevator, Old milking machine and bucket, 6' x 4' Trailer, 8' x 6' Trailer with alum. storage boxes. VCrious Power Tools and Hand Tools, Fencing gear, Elec. Fence Reels, 1000l shuttle, 36 x Sileage Bales ( 2019/2020 Season ), assorted drums, pipe etc.. Cattle Show Halters . numerous sundry items.
Vehicles
2010 Ford Ranger with a 2014 Millard Slide-on Camper, good cond. complete with Shower & Toilet. 2001 Falcon Ute with Canopy.
Furniture
Refrigerator, Freezers, Drawers & Mirror, Wardrobe, Bookshelf, Vacola Jars, Record Player & Wireless, sundry items.
Miscellaneous
4.1 Metre Polycraft Boat ( 2012 ) on Trailer with Canopy & 40 hp Tohatsu Outboard Motor, 3 Metre Polycraft Tender (2013), small Elec. Outboard Motor, Sabre Ride-on Mower, Collection of Model Aeroplanes
Additional Details
GST on Farming Plant - Household items have no GST