Listing Details
Sale ID - cs000839
Sale Date - May 28, 2021 @ 08:00 am
State - Queensland
Plant and machinery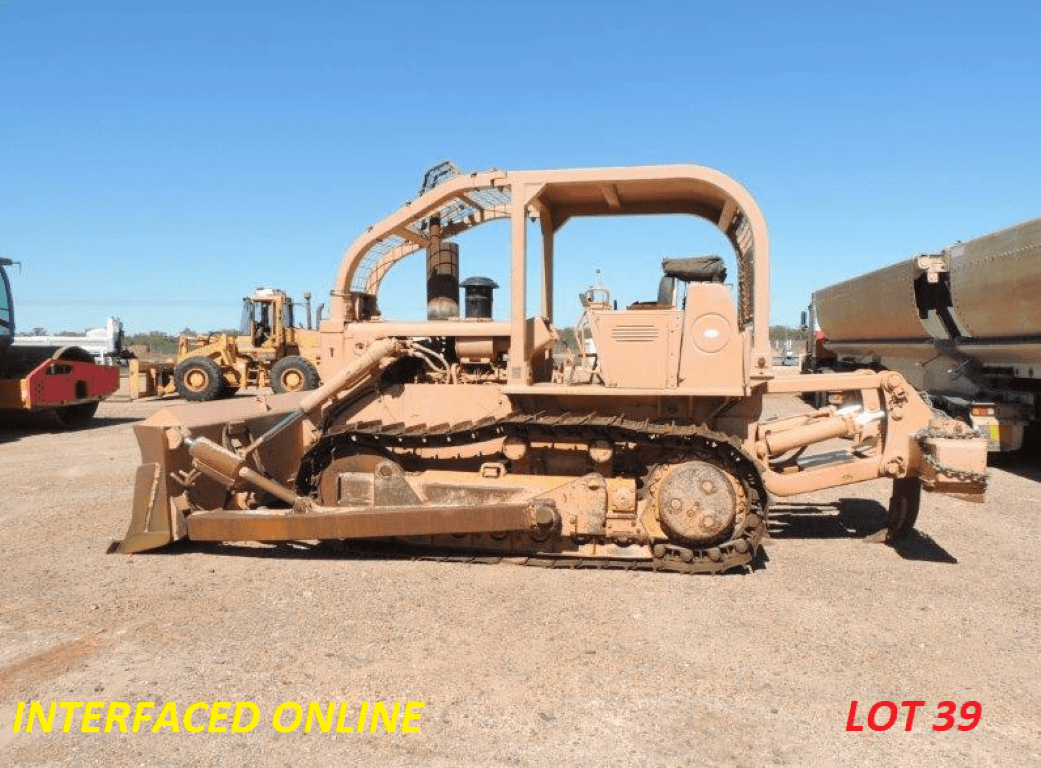 Property Name

ESTATE RUSSELL FLEMING CLEARING SALE

Directions & Location

Lot 8, Fleming Drive, ROMA 4455, QLD

Terms

Bidder Registration on Sale Day , ID Required on Sale Day. Stricity cash or Approved Cheques on Sale Day

GST

Applicable
---
More Details
ESTATE RUSSELL FLEMING CLEARING SALE ROMA
Plant and Machinery
PLEASE NOTE: 50 LOTS IN THIS SALE ARE INTERFACED ONLINE ON AUCTIONS PLUS: INTERFACED LOTS COMMENCE AT 11:00AM ON SALE DAY: Click here for Auctions Plus Catalogue: https://auctionsplus.com.au/auctions/machinery/estate-fleming-clearing-sale%2c-roma%2c-qld/55788
Lot 1: Container Igloo covers 4 x 40ft Containers with 5 meter gap; Lot 2 , 3 , 4 & 5: 40ft Tanks, Lot 6: 15 meter tanker, rear axle; Lot 7: Tank in stand, Lot : 1976 White Road Boss Semi with tank (as is); Lot 9: International Fire Truck V8 Petrol (not going), Lot 10: Cement Batching Plant, conveyor & scales; Lot 11: Dual Axle Dolly; Lot 12: Dolly Super Single, tri axle; Lot 13: Double Axle Trailer; Lot 14, 15 & 16: 28 X Electric Light Poles from 9.5m to 12.5m; Lot 17: Red metal frame, 6.5m x 1.7m x 2m wide; Lot 18: Steel shed frame with plans, 24.6m X 48.4m X 10.7m height to peak; Lot 19: 6m tank on container lock frame; Lot 20: 5m freedom tank , fibreglass on container lock frame; Lot 21 & 22: 3m bucket with quick hitch; Lot 23: 5m Stick Rake with quick hitch; Lot 24: 3m Stick rake with quick hitch; Lot 25: 3m Ripper; Lot 26: 4m Ripper GN11; Lot 27: 2.5m Slasher; Lot 28: 2012 model 4m Slasher, 330 Gearmower; Lot 29: Fuel Tank on trailer; Lot 30: Lincoln 400 Electric Welder, Lot 31: 2011 TIG Welder; Lot 32: Duetz Motor brand new 3 cyclinder; Lot 33: 650 kenworth Primemover, 908,871kms, upgraded Cummins Signature motor, 18 Road ranger Gearbox, with 3 Side Tipper Trailers; Lot 34: 821C Case Loader & Bucket; Lot 35: 721B Wheel Loader 1035P with Forks & quick hitch 3707 Hours; Lot 36: 721 End Loader with telescopic forks & quick hitch, 4403 hours; Lot 37: 6m Aluminum Tray with drop sides, hydraulic lift for (Scania ), 20ft Container lock frame; Lot 38: 1978 Caterpillar 130G Grader, 6866 hours; Lot 39: 1980 Inter TD15C Dozer, tilt blade, 3 rippers, new radiator, 3,969 hours; Lot 40: 2011 MultiPac articulated smooth drum Roller with shells, 1,161 hours;
Vehicles
INTERFACED AUCTION PLUS LOTS CONTINUED: Lot 41: 1997 Amman Roller with s/drum and Perkins motor, 4,209 hours; Lot 42: 2006 John Deere 6620 Wheel Tractor, forks & bucket, 741 loader attachment; 1,378 hours; Lot 43: 1990 Ingersoll Rand Roller, smooth drum articulated pad roller with foot shells, 1,712 hours, Cummins motor; Lot 44: 1981 Model 222H Wabco Scraper 22 yard/cubic meters, $10,000 spent recently structural repairs 9,827 hours; Lot 45: 2007 Scania Semi, air conditioned, TV in cab, 26,433kms (bought new very little work) with water tanker, 2x Sides Spray, 1 x Rear Spray, 1 x Remote Control Nozzle; Lot 46: 2006 Hino Tray Body Truck, 5.3m x 2.4m Tray with Racks for Tray, 201,962 hours,; Lot 47: Unreg 1998 Nissan UD Rigid Mini Mix Truck, approx: 3 cubic meter bowl, 199,465 kms; Lot 48: 2002 Genie Scissor Lift (Blue) 9.8 meter lift; diesel 4WD, 2,584 hours; Lot 49: 2003 Genie Scissor Lift 13.1 meter lift (Red), diesel 4WD, 1,827 hours; Lot 50: Finlay 312 Double deck Screen, Precision Screen 40ft Stacker, includes 2 x Feed Conveyors.
NON INTERFACE ITEM: 2007 Nissan Navarra Extra Cab, new tyres, slide out draw at rear, alloy racks, 2 x tool boxes, 3 spare tyres. (not in running order).
Furniture
STEEL: Qty C Purloin; 16 lgths I Beams; Qty new & used Angle Iron, Box Steel, Flat Bar, Black Steel Pipes for posts; Trench Mesh, Rio Bar, Qty Galvanized Oval Rail, C Section, large quantities Gal Pipe and Gal Spears, all sizes, bundle Ceiling Batons & Z Purloins, Turn Buckles, Qty Slasher Blades, Points & Bucket teeth, 10 x Star Picket Pullers, Tow Bars, Qty Steel Roof Trusses, Assort Colorbond & Zinc Sheeting, Qty Guttering, 3 bundles Cliplock Roofing,
Miscellaneous
NON INTERFACED AUCTION PLUS ITEMS IN THE SALE COMMENCING 8:00AM SALE DAY: Air Compressors Single & 3 Phase, Cement Mixers electric & petrol, 33 x bags cement powder GP, Hessen Sand Bags, Trolley Forks, Spa Bath, Trussell's, Car Ramps, Extension Forks, 2 x 40ft Containers with Sawmill Equipment, Yanmar TF60 Diesel Motor, Honda Firefighter, Tractor Pac generator, Assort Water Pumps, High pressure Cleaners, Assort Electric Motors, Spreader 5 ton lift, Qty Cement pipes, 2 x fork Grabbers, Tri Axle trailer Jinker, Detroit 3 cylinder diesel Motor, 2 x new electric water pumps, Qty Water & gas Collars, Portable Toilet, Qty Lockers, Hooper Sand Blaster, Qty Steel Stands 6 x 3mtrs, Strapping Machine, Roo Skin Salter, Suction hoses, Drillers shack, Truck Tool Box, 2 x tipper Bodies, Qty Wire Cable, Barb Wire & Netting (Ring Lock), 3 x Exterior Flood Lights, Qty Metal Rollers, Strapping Machine, Qty Fluesencent & Hi Bay Lights, 2 x Bath Tubs (1 Antique), 16 x Packs Cypress Pine 4.2m/7m lengths various widths; 2 x Packs weatherboards 6m/7m lghts; 4 x packs Structural Pine5.4m/6m lghts; 31 x packs Cypress Pine 4.2m/6m lengths; 1 x Pack (4 Pieces) Stratco Cooldeke 5.5m lght x 1m width; Qty new coils 50mm/63mm blue line poly; Qty coils Communication & Electrical Conduit, various sizes; Large qty PVC high pressure, 6mtr lengths; assort truck & 4WD Tyres & Rims; Assort benches, Dehorners, Assort Glass Sliding Doors & Windows, Assort Poly Fittings, Stop Cocks, Large Qty Bricks, Pavers, Roofing Tiles & Besser Blocks, 4 x boxes new Tie Wire, Oxy Acetylene Kit, 17 x Tins Lubricant for PVC, Assort Shovels, Ladders, Toilet Bowls, Air Tools, Electric Tools, Coil Chicken Wire, Steel Post Caps, Jerry Cans, Pool Filter & Pump and much much more of sundry items. Open for Inspection Dates/Times: Thursday 20th May & Monday 24th May from 9am to 4pm, Thursday 27th May from 8:30am to 5pm.