Listing Details
Sale ID - cs000860
Sale Date - July 23, 2021 @ 10:00 am
State - Victoria
Plant and machinery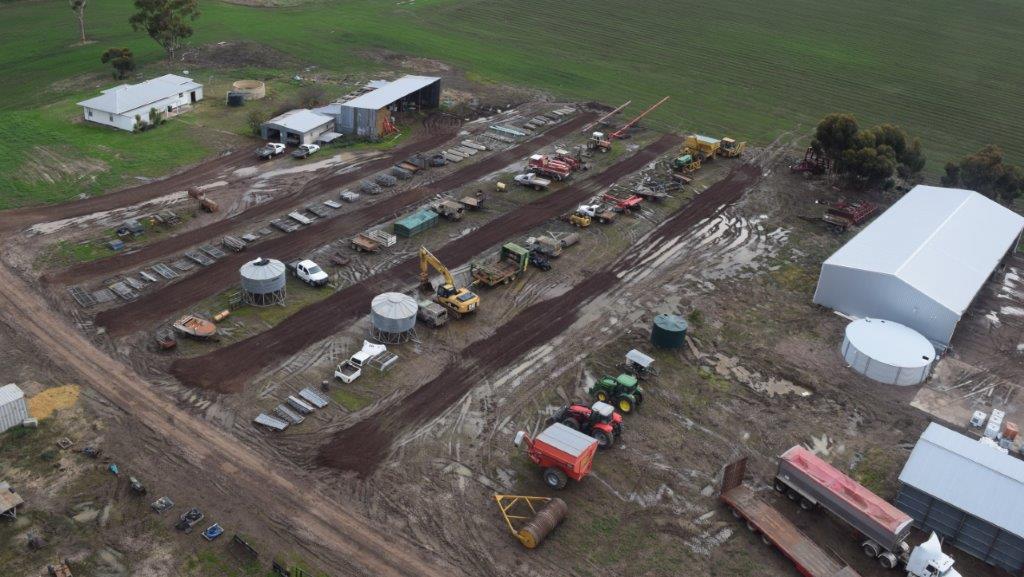 Property Name

Woorndoo Ag

Directions & Location

1926 Mortlake-Ararat Road, Worndoo Vic 3272

Terms

*Sale Postponed Due To Covid Lockdown* Registration on day of sale. Numbers system will be operating. Photo ID required. Cash or cheque on day of sale & EFTPOS/card facilities available. No buyer's premium applies.

GST

Applicable
---
More Details
**Postponed due to lockdown** Farm Plant Reduction Clearing Sale
Plant and Machinery
2011 Massey Ferg 6485 Dyna 6 4WD tractor with Stohl 50.1 FEL 5300 hrs, JD 6330 4WD tractor with FEL 5870 hrs, Fiat 55-56 4WD tractor with Challenge 329E FEL forks and bucket 4600 hrs, Fiat 880 tractor 8092 hrs, 1990 Cat backhoe 4 in 1 front bucket 4 rear buckets 7250 hrs, Cat 320D excavator 10400 hrs, Kobelco 5t excavator, 2000 John Deere Bobcat 22000 hrs forks and 2 buckets, 1982 Freighter drop deck tri axle trailer, 1994 Tefco tri axle 36 tonne grain trailer, 2000 litre truck tank, 18 t Dunstan chaser field bin, Grainchaser field bin, numerous grain augers various sizes, 4 x Jaeschke field bins, trailer mounted portable pump diesel motor new pump, 2000 Taarup mower conditioner, 5' slasher, Ashmore 8 bale feeder, Rock Hopper seeder, Kiki stone roller, 2017 Knuckley rock rake, 3m Conveyer roller, Echidna lawn aerator/roller, PTO ripper/pipe layer, Burder 9000 stone bucket, Challenge bull blade, Speed disc, GTX ripper, Tilco 12m hydraulic chisel plow, Farmpro 3m paddock roller, Silvan 1000 litre 3PL boom spray, numerous box ATV and farm trailers, Munro side shift post driver, Hardi 300 litre spray unit 3 m boom, Lyco hydraulic wool press, hydraulic wool grabs, 10' x 5' wooden wool table, poly and concrete culverts, hay and grain feeders, numerous hay forks, stone and excavator buckets, large quantity fencing posts sheep panels mesh and reo
Vehicles
1994 Ford L9000 Prime Mover 510000 kms 18 speed road ranger, 1982 Inter Acco 610A fire truck ex CFA 41000 kms, 2013 VW Amarok 4WD dual cab motor needs work, 2014 Foton Tunland dual cab tray 4WD 124000 kms, 2006 Nissan Navara D22 dual cab tray 4WD needs work, Polaris Ace side x side + spares, 3 x ex-Army Land Rover 110: 1989 230000 kms; 1991 20000 kms; 1988 51000 kms.
Miscellaneous
Kubota 7400 garden tractor, Kubota F2400 front deck ride-on, Husqvarna ride-on mower 825 hrs, garden trailer, Stihl auger leaf blower hedge trimmer brushcutters chainsaws, new Honda edge trimmer, Selecta garden sprayer, several generators, Onga and Davey fire pumps, concrete mixer, compressor, ladders, 2 x Solo backpack sprayers, Makita dropsaw, Molnar 2 post car hoist, cold cut electric dropsaw, pipe bender x 2, 400 litre diesel tank, Mig welder, laser level, transfer pump with fittings, workshop heater
Additional Details
*Sale Postponed Due To Covid Lockdown* Covid-19: Masks are required to be carried and social distancing protocols apply. All attendees will be required to record personal details, in addition to buyer registration. Registered Bidders only. Numbers limited. This is not a social gathering.