Listing Details
Sale ID - cs000696
Sale Date - August 14, 2020 @ 12:00 pm
State - Western Australia
Plant and machinery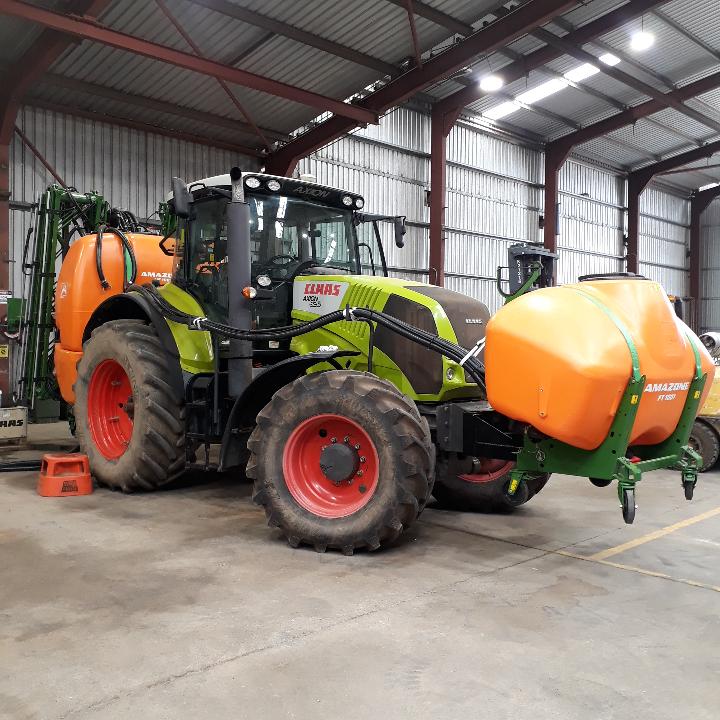 Property Name

Cloverbrook Farm

Directions & Location

The public auction will be held on the property "Josbury", which is situated approximately 12km southwest of Williams on Matthews Rd, entering from the Williams Darkan Rd. (watch for company signs).

Terms

Strictly cash, cheque or EFTPOS on the day unless organised prior to the sale with the Agent. Mobile reception available at the sale.

GST

Applicable
---
More Details
Cloverbrook Farm Clearing Sale
Plant and Machinery
2010 Claas Axion 820 tractor with Trimble 750 & FZ 60.1 Stoll loader & dual wheels, 3052 hrs;1995 tandem axle 5.6 metre tipping Pig trailer with removable grain bin;CAT Lexion 460R Header with Claas C900 30ft tin front eng 3157hrs sep 2140hrs;1995 John Deere 8570 tractor 4WD on singles, eng 5728hrs; Flexicoil 820 air seeder bar – 32ft – 9" spacings with Agmaster press wheels; Bourgault 2115 tow behind cart, repainted 2016 & new auger flights; 2015 Norrish 5 in 1 Ezy Bin 50:50 18ft; 2019 Amazone UF 1801 linkage sprayer with Front Tank FT1001, only covered 175ha; 2011 Amazone ZGB 8200 trailing spreader 8 tonne; 2017 Bredal F2 linkage spreader; 2011 Sitrex 3PL Rake 4 wheel HR-RP4; Massey Ferguson 399 tractor with bucket & forks; 2004 Pederick Rock rake; 1995 Sherwell field bin 20 tonne; 7x4 box trailer; Single axle truck trailer; Trailer with 3,000 litre tank & pump; 2008 Hobbs auger fully hydraulic; Electric pencil auger; 2018 Proway 8m Mobile adjustable sheep ramp with side access gate; 2017 Birds tandem axle 42-bag trailer feeder with scales and ¼ partition; 2013 Prattley 3-way Autodrafter; 2015 Electrodip sheep jetting race with pump; 2015 Hecton pneumatic sheep handler with shearing pole & Lister Nexus shearing head; McDougall Portable Sheep yards (51 panels); 1998 TPW Wool press; Sheep Weighing crate with load bars; Harrington Crutching cradle 2 stand with Sunbeam heads; Harvestaire Marking 5 bucket cradle; Coolroom – 3m long x 1.8m wide; Soft bale hydraulic grabs; Ripper mounder; Hay Forks; Various Self Feeders x 4; 2016 Silvan 12V ATV Spreader; 3 Point linkage grader; 10,000 Litre Rapid Plastics portable water tank; Hobbs Hoist; Wool tables x 2; Wool bin panels approx. 10; Wool bins for oddments x 2; Sunbeam shearing grinder; Sunbeam shearing heads x 3; Heiniger overhead shearing head; Shearing back aids x 5; Heiniger long cores for Evo downtube x 2; 2019 Air compressor ASE 12/100; Kinchrome 30 Litre sprayer tank.
Vehicles
2007 Sterling truck LT9500 (500HP) with 5.2 metre tipping tray & SFM grain bin; 2013 Honda CTX200 Ag Motorbike; 2017 Honda CRF150 Motorbike; Yamaha PeeWee 80.
Miscellaneous
Poly roller; Pickling pot; Davey pressure pumps x 2; Pipe bender; Bench grinder; Assorted fencing gear; Auger from Bourgault air seeder; Tincurrin truck chute; Auger chute; Various grain hoppers; Active Industries meat bandsaw; Wick wiper for 4 wheel motorbike; Stick rake attachment; Car trolley jack; Cattle weighing platform; Calf marking cradle; Cattle dehorners x 2; Stiletto seeding boots & points approx. 42; Assorted PTO shafts; Assorted Hydraulic rams; Hydraulic pump for CAT Lexion 460R; Air seeder parts; 5.0 metre lengths of top hat; Jumper leads; Spring for Birds sheep feeder, Stock on road signs; Chairs; Filing cabinets; Kitchen sinks; Shearer's folding cyclone beds; Fire lighter; Tree planter pogo stick; Assorted Sheep yard gates; Assorted lengths of steel; Various lengths threaded rod; Assorted water pipes; Quantity of poly pipe; Assorted suction hoses; Assorted pipe fittings; Assorted tools; Assorted belts in steel box; Assorted tyres; Assorted tubs and troughs; Assorted bag trolley wheels; Assorted nuts & bolts; Assorted filters; Assorted cupboards & shelves; Flat hose; Binocular Microscope.
Antiques
Antique chaff elevator; Antique roller mill; Lister ball bearing cream separator.
Additional Details
Relevant COVID 19 rules and regulations will apply. Please adhere to social distancing guidelines and personal hygiene requirements outlined at the sale. Pre-registration prior to sale date will be available at Elders Williams branch office. All intending purchasers must register before the start of sale. ID is required for registration. Intending purchasers should check the availability of advertised terms. Light lunch & refreshments available.