Listing Details
Sale ID - cs000829
Sale Date - May 16, 2021 @ 09:00 am
State - Queensland
Plant and machinery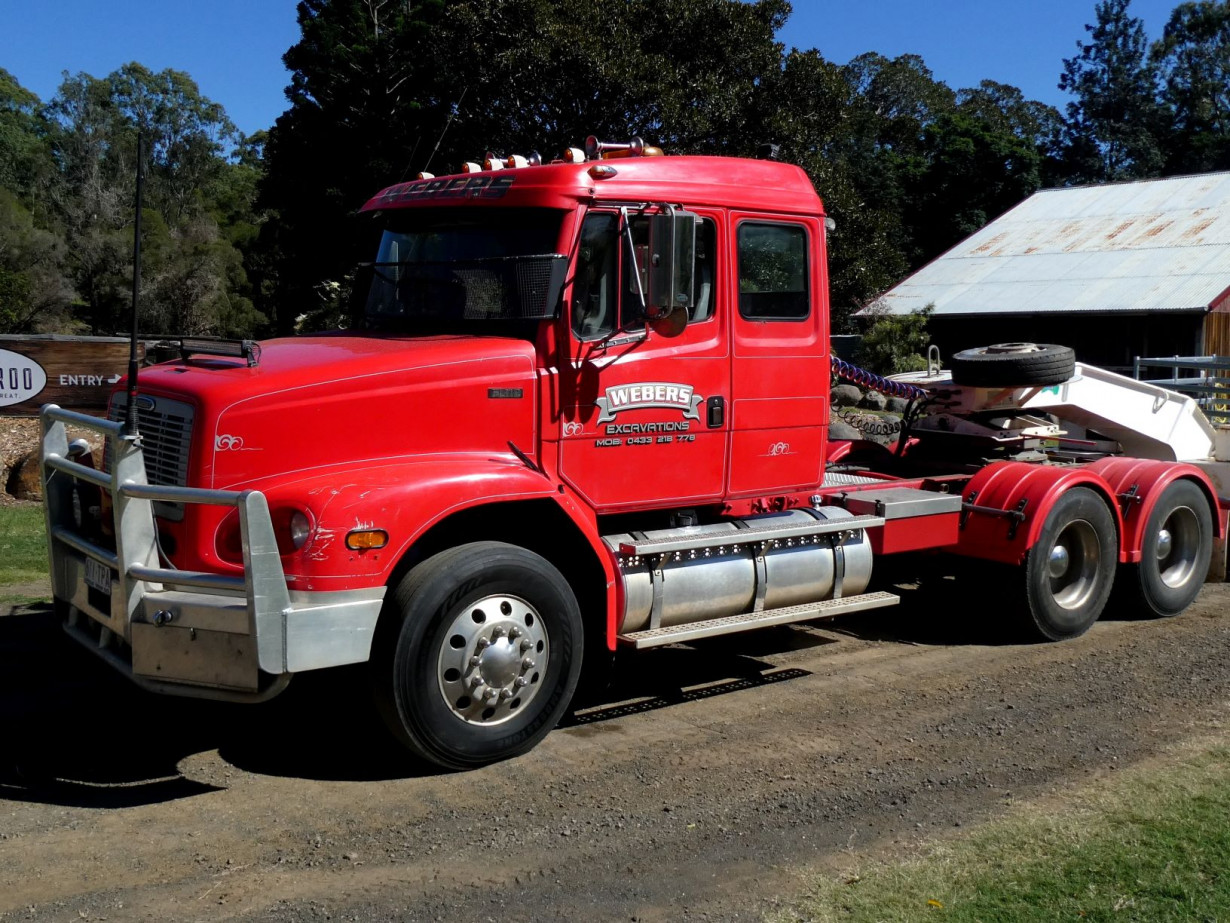 Property Name

YALBAROO SCENIC RIM RETREAT

Directions & Location

772 CAINBABLE CREEK ROAD, CAINBABLE QLD 4285

Terms

PAYMENT ON DAY; CASH, CHEQUE, EFTPOS AVAILABLE. CREDIT TO APPROVED CLIENTS

GST

Applicable
---
More Details
WEBER'S EXCAVATIONS CLEARING SALE
Plant and Machinery
Freightliner Prime mover FL112 registered 514850km, Victory 3 horse float w/awning & electric breaks, FJ Landcruiser farm ute un-reg, Landcruiser ute not running suitable for parts as is, Yamaha Viking 4x4 fitted with lights and UHF radio and winch. 155 hours, 2 x Massey Ferguson 35 tractors not running 1 x diesel & 1 x petrol, Stainless steel water tank on skid to fit truck set up for watering roads, 5.2mt Haines Hunter fibreglass half cabin boat. Fitted with 85HP Yamaha outboard, fish finder, radio on galvanised trailer, Cold room 3mt x 3mt, Fuel tank ground mounted 1000lt , Fuel tank on stand 1000lt , Rapid spray 400Lt low profile spray unit on frame.
Miscellaneous
Large safe, 2 X 3mt feed troughs, King chrome toolbox w/ compressor built in, Jerry cans, Drum pumps, Storage shelves , Workshop benches, Mig welder, Air compressor, Lincoln Welder Auto Mig, Oxy set, Davey firefighter pump, Generator 2 x 15amp outlets, 24 volt power jump starter trolley, Drill press, Bench grinder, Honda HRU push mower, Husqvarna wiper snipper, Pallet jack, Assorted tools, Chainsaws, Atom borer, Hedge trimmer, Floor jack, Assorted hydraulic jacks, Chains, Oil filters, Fan belts, hoses, Oils, Air tools, Power tools, Chain dogs tie downs, Tyres & wheels suit truck, Grease guns manual and battery operated Assorted workshop tools/ spanners/ sockets. Mower blade , Concrete screed, Electric fence tread in posts, Toolboxes, Ute mounted toolbox, Assorted shovels, crow bars, axes, garden tools, Wire strainers, Assorted poly pipe fittings, Poly pipe, Trailer for quad/rider mower, Barbed wire, Gates, Netting wire, 6 x 20lt drums black fence paint.
2 x Dog cages off ground , Saddles Syd Hill, Horse tack, bridles reins, bits., Anvil, Horse feeders, Old Sunshine planter, Old dump rake, Old cream separator, Set old coach lights, Ice making machine, Fridges / freezers, Washing machines, Weber BBQ, Outdoor cabinet, Camp oven, Assorted Cupboards, Garden ornaments, Fishing rods, Wine barrels, Antique Singer sewing machine , Gym equipment, Numerous assorted household items, Large flat screen television.
Bee keeping equipment, 4 Frame manual spinner, Honey buckets, Stainless steel rectangular honey tank on stand, Bee suits, Smoker, Stainless steel round honey tank new, Pallet brand new honey bottes & lids.
Outside Entries
Taarup 1500 Reservedelsliste, Southern Cross Travelling Irrigator SC75, Polaris Sportman 500 4x4 2000 Model, 2004 Honda CTZ Ag Bike, Suzuki DR 200 Ag Bike, Galvanised 3 point linkage Fertiliser Spreader.
Valpadana 55HP 6055RS 4wd Articulated Tractor and